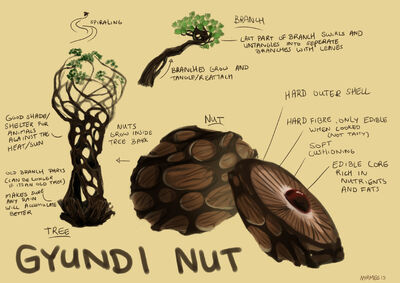 Gyundi nuts are native to the
Death Sands
, where they can be found growing from gyundi nut trees.
Gyundi nuts have a hard, fibrous outer shell, which is only edible when cooked and does not taste very good. In the center of each nut is a much better tasting core that is rich in fat and has a high calorie content.
The cores of the nuts are a staple food among the Nomads of the Death Sands. The fiber of the outer shells hardens when dried and can be used to make excellent rope.
Gyundi nuts are native to the Death Sands.
Some of the trees that sprout the nuts had been planted at Mitca's Refuge, an oasis not too far outside of the walls of Parthos. The oasis was burned to prevent Orcs from using it when they laid siege to the city, so none of the trees remain. However, wild gyundi nut trees can still be found in various areas around the desert landscape of the Death Sands.